The CPC recirculating roller guides offer uncommon technical characteristics, the result of product engineering aimed at offering an innovative system, and have a range from size 35 to size 45 with long and ultra-long series trolleys, low and compact, ensuring perfect interchangeability with existing systems on the market.
The extremely compact profile allows applications in small spaces, without compromising load capacity, rigidity and robustness.
The steel reinforcement plates on the frontal seals allow to avoid breaking of the plastic heads in heavy conditions such as high speed or high loads.
All models are equipped with lower protection seals (lower side of the carriage in contact with the guide) inside (on the head of the guide), called TOTAL PROTECTION, this also allows a better retention of the lubricant inside the carriage, so as to ensure a longer lubrication interval reducing maintenance time and costs.
MXL series carriages (ultra-long range) are available which allow a considerable load capacity, high rigidity and a degree of precision suitable for particularly heavy applications such as those of machine tools.
HRR High profile type – ARR low profile type – LRR Extra low profile type
Suitable for conditions where low inertia force and low external torque are required. This system has a low height and low centre of gravity to provide a more compact product. The ARR, HRR and LRR trolleys are mounted on the same rail for similar load capacity and service life.
MXL Extra long type – ML long type – ML standard type
With reference to the MN and ML runner block, the MXL model is the ultra-long range that allows a considerable load capacity and high rigidity, and a class of accuracy that can meet particularly demanding applications such as machine tools.
Stainless steel reinforcement plate
Using 2 stainless steel reinforcement plates, the L type design allows for screws to be fastened onto the top and bottom of the runner block, reinforcing the rigidity and cladding of its caps.
The clearance between the rail profile with the seal design is below 0.3mm, reinforcing the steel plates while enabling scraper functions.
Full Cover Seal (Standard Feature)
All models type are equipped with an "end seal", "bottom seal", and "inner seal" to effectively prevent foreign objects from sliding into the block or lubrication from leaking out.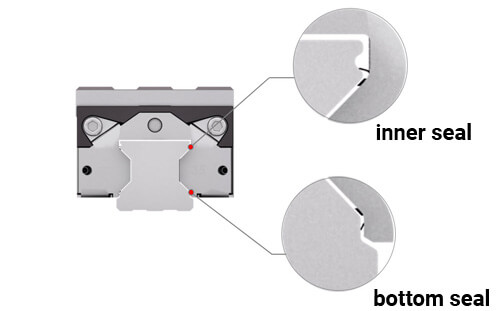 Dustproof under Harsh Conditions (Optional)
It is an additional NBR gasket available for application in hostile environments, which provides total protection against particularly difficult dirt from applications such as:
Machine tools (grinding) glass machines, machines for working graphite or marble and wood. An additional metal plate is available for thicker chips.